Public Programing

SUMMIT FOR FUTURE SENSITIVITY
NOVEMBER 12, 2022
ZOOM
---
Seven short artist lectures on race, gender, and radical-tech imaginaries. This artist gathering and knowledge exchange brings together leading artists and scholars in the field of art and technology to ask how sensitivity can be a guiding tenet as we grapple with the social, political, and biological implications of our emerging technologies. Each artist will present a five-minute presentation on an ongoing project or a recent body of research. After the seven presentations, the artists will take 20 minutes to discuss observations in a round table conversation. Participating artists include Lena Chen, Mia Imani Harrison, Young Joo Lee, Lucy McRae, Romi Ron Morrison, Tiara Roxanne, and Skawennati. Moderated by Jamison Edgar.

The Summit for Future Sensitivity is hosted on Zoom by Honor Fraser Gallery in conjunction with Future Sensitive, a solo exhibition by the filmmaker and body architect, Lucy McRae.


Lena Chen (she/her)
is a Chinese American artist creating performances and socially engaged art in live and virtual contexts. Informed by her experiences as a sex worker and a survivor of revenge porn, Chen's practice examines the impact of technology on gender, intimacy, and labor.
Mia Imani Harrison (she/her)
is an interdisciplinary artivist (art + activist) and arts writer based in Los Angeles, CA. Harrison interrogates the ways that disenfranchised communities can heal individual, communal, and societal trauma by creating works that live in-between the worlds of art and science with special atention given to "Radical Rest" and Dream techhnologies.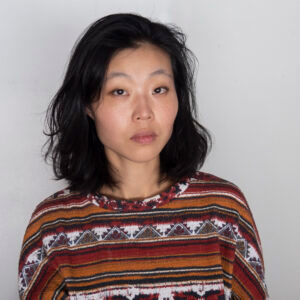 Younge Joo Lee (she/her)
is a multimedia artist from South Korea, currently living and working in Cambridge, MA and Los Angeles. Lee investigates the concept of "the Other" and "the otherness" found in history, mythology, mass media, drawing upon her own experiences living across three different cultures: South Korea, Germany, and the USA.
Lucy McRae (she/her)
is a science fiction artist, filmmaker, inventor, and body architect. Her work speculates on the future of human existence by exploring the limits of the body, beauty, biotechnology, and the self. McRae works across installation, film, photography, artificial intelligence, and edible technology.
Romi Ron Morrison (they/them)
is an interdisciplinary artist, researcher, and educator. Their work investigates the personal, political, ideological, and spatial boundaries of race, ethics, and social infrastructure within digital technologies. Using maps, data, sound, performance, and video, their installations center Black diasporic technologies that challenge the demands of an increasingly quantified world—reducing land into property, people into digits, and knowledge into data.
Tiara Roxanne (they/them)
is a Tarascan Mestiza scholar and artist based in Berlin. Their research and artistic practice investigates the encounter between Indigeneity and AI by interrogating colonial structures embedded within machine learning systems. They curently serve as a Postdoctoral Fellow at Data & Society in NYC.
Skawennati (she/her)
makes art that addresses history, the future, and change from her perspective as an urban Kanien'kehá:ka (Mohawk) woman and as a cyberpunk avatar.She is best known for her machinimas—movies made in virtual environments—that explore contemporary Indigenous cultures, and what Indigenous life might look like in futures inspired by science fiction.
Moderator:
Jamison Edgar (they/them)
is a visual artist and curator living in Los Angeles. Their current research examinies our ancient relationships with so-called "emerging technology," as well as the role trans, Black, brown, and indigenous artists have played in shaping our technological imaginaries.